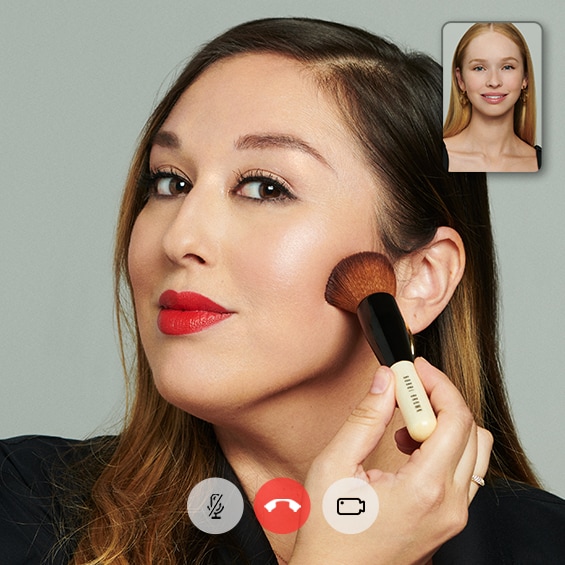 Need to get shade matched? Have a quick question about a product?
Video chat instantly with a pro today.
Get personalized advice and beauty tips with our complimentary makeup sessions. Brush up on your routine, find your new favorite look, and more in a one-on-one Virtual Artistry Consultation with one of our Pro Artists. To book an appointment, simply select a skincare or makeup session that suits your needs, and we'll pair you with a pro. Or you can choose to book by artist if you have a favorite. Next, pick a day and time that work best for your schedule. Then, enter your information and let us know if there's anything you'd like our artist to focus on. Our artist will come prepared with pro tips and product recommendations. If you'd like, you can bring your favorite Bobbi Brown essentials and learn how to get the most of them. From finding your undertone-correct shade to picking your perfect foundation formula, we will make it easy to put your best face forward at this one-on-one makeup consultation. Or put together a personalized skincare routine and get tips for getting makeup-ready skin with a one-on-one skincare consultation. If you want a makeup lesson, meet one-on-one with a Pro Artist to create a 5-minute look you'll want to wear every day, learn how to create statement eyes perfect for a party or find your ideal red lip. Or plan a beauty party by meeting up with a pro and up to three friends in a complimentary Virtual Artistry Consultation. We love talking beauty with you.